The Lassithi Plateau (GR: Οροπέδιο Λασιθίου, Oropedio Lasithiou), is a high endorheic plateau, located in eastern Crete, Greece on the mountain range of Dikti at an average altitude of 840 m, and in a distance of around 55km from Heraklion and 50km from Agios Nikolaos. The plateau is elliptical in shape with an E-W axis of 11km and the N-S of 7km.
The plateau of Lassithi is renowned for its exceptional agricultural produce, the thousands (almost 15000) windmills that used to be there in the past, its significant historical role and for the unique cave of Psychro also known as "Diktaion Andron".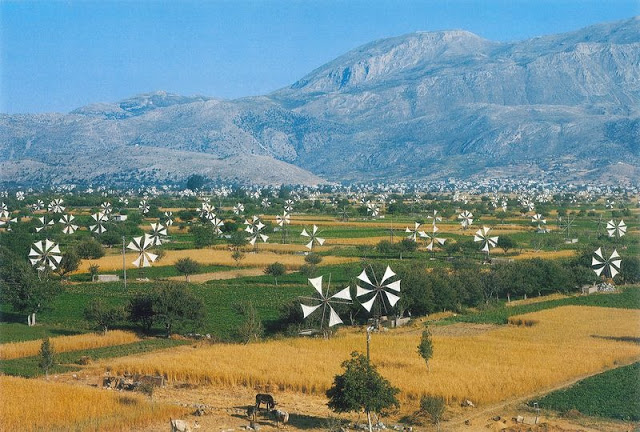 There are the following villages in the plateau of Lassithi.
Agios Georgios, Agios Konstantinos, Agios Charalampos, Argoulias, Kato Metochi, Koudoumalia, Kaminaki, Lagou, Marmaketo, Magoulias, Mesa lassithi, Nikiforidon, Plati, Pinakiano, Selli, Tzermiado and Psychro.
Tzermiado is the largest village and the seat of the municipality. A visit to all the villages in turn, around the plateau by car, should make a circular route that hardly exceeds 20 km.
There are also two monasteries in the plateau, one is he monastery of Kroustalenia, across the village of Agios Konstantinos and the monastery of Vidiani a little after Kato Metochi and before Pinakiano villages.
A folklore museum and another one dedicated to the great Greek statesman Eleftherios Venizelos are operating in the village Agios Georgios in the summertime.
There are also three smaller plateaus located a little higher than the Lassithi plateau, the plateau of Nissimos located above Tzermiado village, the plateau of Limnakaro, above Agios Georgios and the plateau of Katharo, all accessible from the Lassithi plateau.