The beach of Kommos
One and a half kilometers after Pitsidia a branch of the road leads to Kommos, the ancient port of Phaistos and
one of the most beautiful sandy beaches of Crete
.
It is a magnificent sun-drenched stretch of sand, one of the largest in Crete, which extends from a clump of rocks riveted in the shallow waters in the south to the Kalamaki settlement in the North.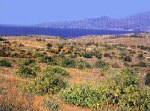 You can access Kommos from Pitsidia either by car or on foot. There are sandy trails which wind south through vineyards, almond trees, fig trees, cedar trees and low sand hills. The inconspicuous lilies that shoot off the sandy terrain emit an intoxicating aroma, particularly during August-September.
The beach of Kommos is unspoiled, charming, strewn with fine golden sand where the Caretta-Caretta tortoises lay their eggs. The view from the beach is also magnificent. At a distance one can distinguish the barren isles of "Paximadia", the range of Sphakianes Madares, and the legendary Mt. Psiloritis.
The sea is crystal clear, inviting, and ideal for sports.
Facilities
The whole area is under protection by the archaeological authorities and building is not permitted. Accommodation facilities are not available in Kommos but you may find many choices in the nearby villages of Pitsidia and Kalamaki beach.
At the south end of the beach, next to the archaeological site, there are umbrellas and sun beds, toilet, showers, a tavern and a canteen.
History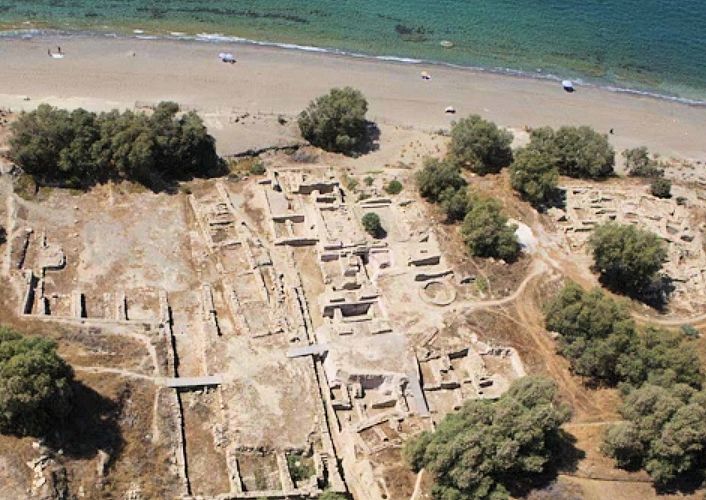 Kommos was the ancient port of Phaistos. The high point of the settlement was during the Middle and Late Minoan period but it continued to be inhabited until the Roman period. Excavations in Kommos begun in 1.976, by a team of archaeologists from the University of Toronto. Today the excavations continue under the supervision of Prof. Joseph Show.
The most important finds in Kommos date from 1.500 B.C. and are kept at the archaeological Museum of Iraklion.
The antiquities of the old Minoan haven Kommos lie a few meters away from the beach. The sanctuary complex from historical times, with a temple, a prytaneum, a circular building and a court with four square altars is very important. Under the sanctuary were discovered large buildings with porticoes from the Post-Palace period, which were perhaps storerooms.
More about the archaeological research and the site can be found
here:Kommos Conservancy
.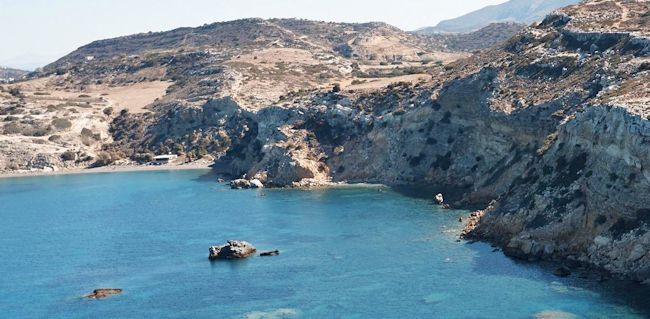 A little of the shore, approx. 80 m. into the sea, there is a large black rock known as Volakas. Tradition says that it is the stone which cyclops Polyphemus hurled against Ulysses, who had earlier pierched the cyclops' only eye with a stake. In addition Homer says that the ships of Menelaos were wrecked on the black rock on their way back from Troy. Only six were saved - those with a black stem.