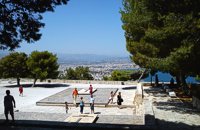 At the magical and historical location of Profitis Ilias, in Akrotiri, at the east of Hania lays the tomb of Eleftherios Venizelos, one of the most long-standing prime ministers of Greece and whose political life was focused on doubling the size of Greek territory and on the creation of a contemporary State. Eleftherios Venizelos himself had designated this position to be his resting place before his death.
For the visitor, it affords a panoramic view of the rich green plain of Hania, the imposing White Mountains, the Cretan Sea, the town of Hania and the Chalepa quarter which is the location of the house in which the great politician spent most of his life and today is the headquarters of the National Research Foundation 'Eleftherios K. Venizelos'.
At a short distance to the south of the grave is the place where the Greek flag was raised during the last revolution of Crete against the Turks (1897), led by Eleftherios Venizelos. Great events of the revolution took place here, most importantly was the bombing of the revolutionary camp by the European fleet, the shooting down of the Greek flag and its re-establishment by a revolutionary named
Kagiales
.
When the flag fell the fighters broke down in tears. At that point a cry went up among them: " The flag! Raise the flag!" The heroic freedom fighter Spyros Kagiales rushed into the heat of the battle and took the fallen flag in his hands and standing tall and proud on a rock he raised it high against replacing the broken flagpole with his human body, while other fighters were ready to take his place if he fell. The crews on the Greek vessels began to shout while the Italian and French sailors, deeply moved by the enthusiasm of the Greeks, began to applaud incessantly.
The bombardments stopped with the ruins of the church of the Prophet Elijah (Prophitis Ilias), which had been demolished by a Russian cannonball , still smoking away.
In the area of today's church offices, in 1897 was located the village coffee shop. Also, here is an Exhibition hall with traditional local handicrafts, Peninsula's Revolutionary Camp in 1897, Sofoklis Venizelos Tomb - Sofoklis Venizelos (1894- 1964), the son of Eleftherios Venizelos and also prime minister of Greece, was laid to rest in a grave next to that of his father's. In the exhibition space one can find folk art items and traditional Cretan products.
External Links:
www.profitis-elias-chania.gr