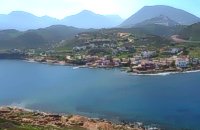 A small picturesque village by the sea characterized as a landscape of exquisite, natural beauty. With joyful and peaceful inhabitants who constantly tease each other. It is located in Crete, north of Lasithi prefecture, between Agios Nikolaos and Sitia, at equal distance (30-35km) from the three major cities(Agios Nikolaos, Sitia, Ierapetra).
Ideal place for holiday or special weekends.
You will enjoy the most colourful sunset and the most beautiful daybreak from any other place. The serenity of the morning open view, with the sun rising from the sea, will be unforgettable.
The small island, opposite the village, with the small church of Agios Nikolaos, offers a unique beauty to the landscape. United with the land, in antiquity it hosted a great civilization, which originates from 3000 BC. The excavations, which started in 1908 by Richard Seager and continue until today by a group of Greek and American archaeologists, with Prof. Jef Soles in head of it, revealed unique archeological findings, which adorn the museums of Sitia, Agios Nikolaos and Heraklion.
It is easy to visit the island by boat, which is scheduled to carry out this boat-trip.
If you like fishing, you will be enthusiastic about the rocky scenery that surrounds the village.
You can swim in the two small bays of the village or in Limenaria, 500m west of Mochlos, for more privacy.
The area of Agios Antonios with the Venetian Tower (3km away from the village) is interesting to visit.
Setting off from Mochlos, by car or on foot, you can visit the small, surrounding, picturesque villages Lastro, Sfaka, Tourloti, Myrsini.