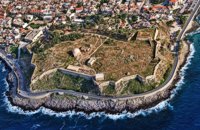 The Fortezza castle, at the top of a low hill named "Palaiokastro" dominates the town. It was built in 1590 to protect the city from the pirates raids and the Turks.
The name "Palaiokastro which means 'The old Castle' was in use even by the Venetians which demonstrates the existance of an even older castle at this place. - Probably the acropolis of the ancient town of Rithymna.
The interior of Fortezza accommodated the following basic buildings: the storeroom of the artillery, where canons and weapons were kept, the residence of the Councilors, where one of the city's two Venetian councilors lived, the residence of the Rector, which represented a luxurious, magnificent building in the central square of the fortress.
Today parts of those buildings, as well as of some others built later, can be seen. The view from up there is magnificent, especially at night.
The municipal theatre "Erofili" stands also at Fortezza's premises. It is an outdoor theatre that hosts almost all the performances during the Renaissance Festival.