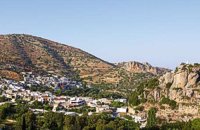 The village is located at 480m a.s.l. 24.5km away from Agios Nikolaos, taking the road from Kalo Horio- Prina, and 15 km from Ierapetra. It has 617 inhabitants, including the smaller villages Kamara and Psathi. Forests of platans, pine trees, olive trees and a spring with small waterfalls, are the characteristic of the villages environment.
The hill " Kastelos " is overlooking the village and almost all the county of Ierapetra and the Libyan sea. At the top of Kastelos there is the cave "40 Chambers" with the small chapel of "Timios Stavros" in it.
Sights :The gorge of Havga, the cave 40 Chambers, the cave Theriou Koufala, the hill Kastelos, the chapel of agios Antonios with curved temple and entrance, the chapels Agios Georgios, Agia Paraskevi, and Panagia
Cultural associations :The cultural association of Kalamafka.
Cultural events :The patronal feasts of Panagia at August 15 and Timios Stavros at September 14.
Facilities to the visitors :No accomodation. A few taverns and cafes operating at day time.