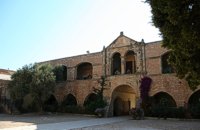 Arkadi monastery
Rethymno
The Monastery of Arkádi (GR:Αρκάδι) built during the last Venetian period, it consists of a large set of fortress-like buildings. The main building included the cells, the warehouses where the agricultural products were treated and stored, the stables. In a word, it was a well-equipped little fortress where people could find refuge in times of trouble. There is an impressive church, with two naves dedicated to Saint Constantine and Saint Helen, and to Our Lord.
Due to the holocaust it suffered in 1866, Arkadi has become the island's most famous monastery.
Image Library

Myriokefala village
Rethymnon
It is built at 500m a.s.l. and 37km away from the city of Rethymno, with 400 inhabitants most of them farmers and stock breeders. It took its name due to its position, "MYRIOKEFALA" means myriads of heads (here :Hills). It is the birth place of George Maravelakis, a great fighter of the 1866 revolution against the turks. The monastery of Miriokefala, an interesting sight, devoted to the Holly Mother, was established by Ai Kir Giannis (a Cretan Saint) in the 11th century. There are many icons of Byzantine art, among them this of Holly Mother.