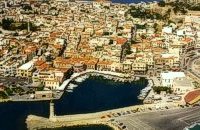 Rethymnon city
North West Crete
Rethymnon (GR: Ρέθυμνον) is the capital of the Prefecture of the same name and it is built between the two other large cities of Crete. The town still maintains its old aristocratic appearance, with its buildings dating from the 16th century, arched doorways, fountains etc. The Fortezza castle, at the top of a low hill named "Palaiokastro" dominates the town. It was built in 1590 to protect the city from the pirates raids and the Turks.



Adele Village & Beach
Rethymnon North
Adele village is at a distance of approximately 8 Km east of Rethymnon town located on the road to the Monastery of Arkadi. It is a beautiful small village built in an altitude of 70m above sea level with a population of 350 people. Strolling around the village, through the narrow paved small streets the visitor will come upon beautiful picturesque house yards, freshly whitewashed houses, historical churches and tasteful traditional coffee shops.